---
Aircraft of the Month for August 2000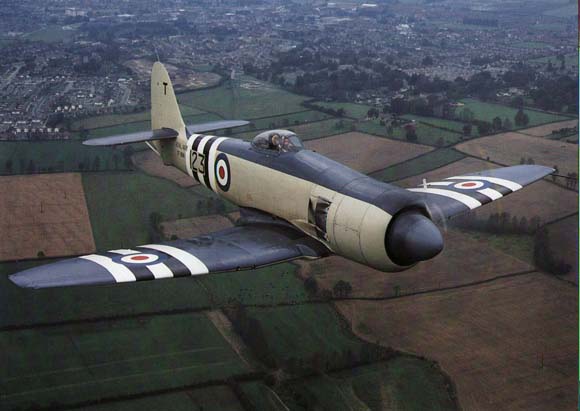 Hawker Sea Fury
by Alex Stoll

Designed by Sydney Camm, Hawker's chief engineer, in 1942 to provide the RAF with a lightweight Tempest under Specification F.2/43, the Fury was modified in 1943 with a uprated Centaurus XII engine to meet Royal Navy Specification N.7/43 for a carrier-based interceptor and the two specifications were combined into F.2/43. Hawker was to work on the RAF version and Boulton-Paul Aircraft Ltd. of Wolverhampton was assigned conversion into the RN version. A revised naval specification, N.22/43, replaced F.2/43 in early 1944. Contracts were placed for 200 F.2/43 aircraft for the RAF and 200 N.22/43 aircraft for the Fleet Air Arm in April 1944. The prototype, SR661, featured a Centaurus XII engine, a four-bladed propeller, fixed wings and an arrester hook. It made its first flight on 21 February 1945. It was said to fly like a jet, but with the maneuverability of a propeller fighter. The second prototype, SR666, had a Centaurus XV engine, a five-blade propeller, and was fully navalized, with folding wings (the Sea Fury was the first British naval aircraft to be designed at the outset with power folding wings). The first of a planned 100 Boulton-Paul aircraft, VB857, was built to the same standard as SR666 and made its first flight on 31 January 1946.
However, when World War II ended, the RAF cancelled its Fury order to concentrate on jets, and the RN reduced its Sea Fury order to only 100 aircraft. The entire Boulton-Paul contract was also cancelled.

The first 50 production Sea Furies, which were designated Mk X, were based on the SR666 prototype. The first Mk X, TF895, first flew on 7 September 1946. Earlier Mk Xs used four-blade propellers, but after more testing all later Sea Furies used five-blade propellers. Sea Fury TF898 began carrier trials on the HMS Victorious in winter 1946-7. Modifications fixed problems with arrester hooks sustaining damage during landing and the Sea Fury Mk X was cleared for shipboard duty in Spring 1947. No. 788, 802 (Ocean), 803, 805 (Glory), and 807 (Theseus) Squadrons of the Fleet Air Arm received Sea Furies starting in August 1947.
The next version, the Mk. 11, was a fighter-bomber version. It had a longer arrester hook and it could ues RATO gear. The first Mk11 was the TF956, built in 1946. At least 615 Sea Fury Mk 11s were delivered to the Royal Navy from 1947-1954 and became the RN's main single-seat fighter. In May 1948 the No. 802 Squadron (Ocean) became the first squadron to reveive the Mk11. By then, it had been redesignated the FB Mk. 11.
The Korean War
The HMS Theseus carrier was dispatched to Korea soon after war began. On 7 December 1950 the Sea Furies began attacking North Korea. Usually used for ground attack, some layed mines outside Communist ports. The minelayers were attacked by MiG-15s who downed some Sea Furies, although the Sea Furies also downed some MiG-15s. A few months later the HMS Ocean and HMS Glory arrived. Royal Australian Navy Sea Furies from the HMAS Sydney also fought in the Korean War.
T. Mk. 20
When Iraq ordered four two-seat land-based Sea Furies, the British military became interested. The first two-seat prototype, VX818, was built to an Admiralty Standard of Preparation and flew first on 15 January 1948. The number of cannon was reduced to two, the tail was larger, the tailwheel was fixed, and a periscope for the instructor was mounted on a tripod in front of his canopy. The prototype was built with seperate cockpit canopies for the instructor and student, but during an early test flight, the rear cockpit collapsed, so a "tunnel" canopy that linked the two cockpits was added to increase the cockpit's strength. Sixty T20s were delivered between 1950 and 1952. They were operated from shore bases and had no arrester hooks but retained the FB11's folding wings.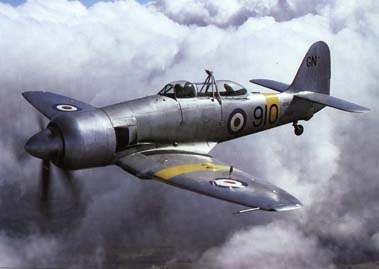 Exports
The Mk. 50 was the first export variant, ordered by the Royal Netherlands Navy for use on the ex-RN escort carrier Nairana. 24 were ordered by 1950. Later Fokker license-manufactured 24 more Sea Furies. Many served on the Karel Doorman (previously HMS Venerable). The Dutch Sea Furies were replaced in 1959 by Hawker Sea Hawks.
During 1949 Egypt ordered 12 Sea Furies, some of which served in the November 1956 Suez operation. During 1949 and '50, Australia received about 50 ex-Fleet Air Arm Sea Furies. The Royal Canadian Navy also received some. Pakistan acquired 93 single-seat (87 of which were new-build Mk.60s, five were ex-FAA Mk.11s, and one was the protoype F.2/43 Fury, NX802) and five two-seat Sea Furies (all of which were new-build Mk.60s) in 1949-50.
Many surplus FAA Sea Fury Mk. 10s, 11s, and T.20s were bought by Hawker in 1957. They reconditioned and resold 18 Mk11s and 3 T20s of those bought from the FAA to Burma in 1958. Also in 1958 Hawker sold 15 Mk11s and two T20s out of those they bought from the FAA to Cuba. They were assembled in 1959 and used in the Bay of Pigs invasion in 1961. During 1959-60, Deutsche Luftfahrt Beratungsdienst bought eight T20s, modified them as target tugs, and contracted them to the West German Luftwaffe. These aircraft had civil registrations.
Sea Furies Today
Jets replaced Royal Navy Sea Furies in the 1950s, but surplus Sea Furies have been purchased by civilians and used in unlimited racing in the United States.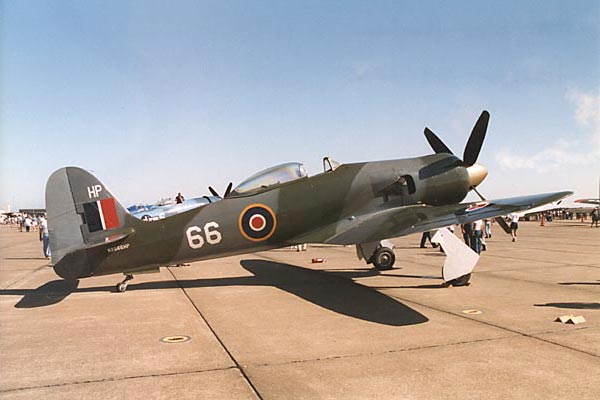 © Allen Matheson, www.photohome.com
Variants<!br> <!img>

Mk X
Initial version
T20
Dual-control gunnery trainer
FB11
Fighter-bomber
Mk 50
Royal Netherlands Navy version
Mk 60
Export version of the FB11 for Pakistan
Mk 61
Export version of the T20 for Pakistan
Sea Fury Specifications

FB11
T20
Type
Fighter-bomber
Gunnery trainer
Powerplant
One 2480hp Bristol Centaurus XVIIC sleeve-valve two-row 18 cylinder radial
Accommodation
One pilot
An instructor and a student in tandem
Armament
Four 20mm Hispano cannon; rockets, 1000-lb bombs, napalms, drop tanks
Two 20mm Hispano cannon; rockets, bombs, napalms, drop tanks
Operators
UK (at least 665), Australia (about 50), Canada (74), Pakistan (93), Egypt (12), Burma (18), Cuba (15)
UK (60), Pakistan (5), Burma (3), Cuba (2), Germany (8)
Performance
Cruise speed
625km/h (325kts; 374mph)
No data
Max cruise speed
736km/h (385kts; 443mph)
649km/h (350kts; 403mph)
Ceiling
11,015m (35,800 ft)
No data
Range
700mi; 1040mi w/ two drop tanks
No data
Max climb
20,000ft in 5.7 min
9140m (30,000ft) in 10min 48sec
No data
Climb rate
1475m (4840ft) / min
No data
Weights
Empty
4191 kg (9240 lb)
No data
MTOW
6665kg (14,650 lb)
No data
Dimensions
Wingspan
11.7m (35'5")
No data
Length
10.5m (34'8")
No data
Height
4.9m (15'11")
No data
Wing area
26m² (280sq ft)
No data
Click here to see a list of links to past Aircraft of the Months, sign or view the guestbook, see the counter, visit my home page, or view the Forum.
Image courtesy Swordfish Heritage Trust
Hits since 6 June 2000