---
Aircraft of the Month for October 2001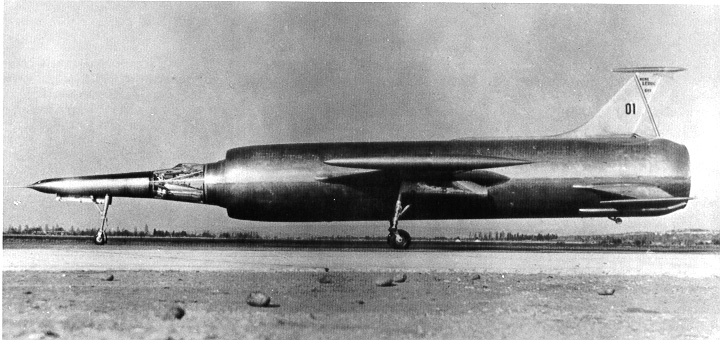 Leduc 0.22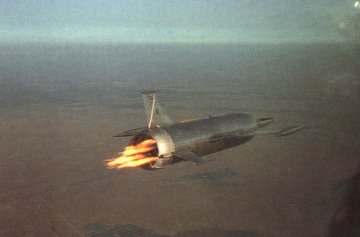 by Alex Stoll

he 0.22 was the last of René Leduc's experimental ramjet fighters. After designing the successful 0.21 aircraft, the 0.22 was developed from it. Modifications included a 36.47 kN (8,180 lb) thrust SNECMA Atar D.3 turbojet mounted within the ramjet, to allow the aircraft to take off and accelerate on its own power to speeds where the ramjet could operate (about Mach 0.4/340 kph/185 kts). Although the 0.22 made its first flight on 25 December 1956 and completed over 30 flights, it was never flown under ramjet power due to government financial support being cut. The withdrawal of this funding also resulted in the cancellation of the project.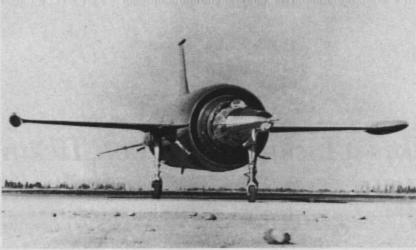 Leduc 0.22 Secifications
Accomodation
Pilot
Powerplant
One SNECMA Atar 1010-3 turbojet, 26.47 kN
Fuel capacity
4200 liters (1120 US gallons)
Performance
Ceiling
25,000 m (82,000 ft)
Duration
15-60 minutes
Weights
Empty
6000 kg (13,200 lb)
MTOW
11,000 kg (22,200 lb)
Dimensions
Wingspan
10 m (33 ft)
Length
17 m (56 ft)
Height
4.5 m (15 ft)
Maximum fuselage diameter
2 m (6 ft 7 in)
Outer fuselage length
11.8 m (39 ft 9 in)
Wing area
22.4 m² (241.1 sq ft)
Click here to see a list of links to past Aircraft of the Months, sign or view the guestbook, see the counter, visit my home page, or view the Forum.