Hong Kong Suggestions
Alex Stoll // Last updated 23 June 2013
Caveat: most of this information is from 2006 and may be out of date. Also, I'm assuming basic familiarity with Hong Kong's geography.
Things To Do (in order of awesomeness)

| | | | |
| --- | --- | --- | --- |
| | | Avenue of Stars | Tsim Sha Tsui |
| | | Victoria Peak | Central |
| | | Star Ferry | Central, Tsim Sha Tsui |
| | | Take the bus from the airport | |
| | | A Symphony of Lights | Tsim Sha Tsui |
| | | Peak Circle Walk | Central |
| | | Dessert cafes | Causeway Bay, Mong Kok, Tsim Sha Tsui, etc. |
| | | Bakeries | Causeway Bay, Hang Hau, Po Lam, etc. |
| | | Horse races | Happy Valley, Sha Tin |
| | | Window of the World | Shenzhen |
| | | Temple Street night market | Yau Ma Tei |
| | | Portland Street | Mong Kok |
| | | OZONE | West Kowloon |
| | | Lan Kwai Fong | Central |
| | | Tian Tan Buddha | Lantau |
| | | IFC observation floor/HKMA museum | Central |
| | | Bank of China Tower observation floor | Central |
| | | Hong Kong Museum of History | East Tsim Sha Tsui |
| | | Junk ride | Tsim Sha Tsui |
| | | Visit a temple | Sheung Wan, Stanley |
| | | Take a tram | Central, Wan Chai, Causeway Bay, Happy Valley, etc. |
| | | Pineapple beer and Jolly Shandy | Everywhere |
| | | Lo Wu mall | Shenzhen |
| | | Kowloon Walled City Park | Kowloon City |
In General
Octopus Card
You should each buy an Octopus Card as soon as possible (you can probably do this at the airport). Although it will end up costing you a couple dollars US, it will definitely be worth it. The Octopus Card — an integral part of an authentic Hong Kong experience — lets you pay for things (e.g. almost all public transportation and also random restaurants, convenience stores, etc.) by RFID. It's particularly convenient for public transportation, because you won't have to buy a ticket each time you take the MTR (subway) and you won't have to worry about paying exact change in cash for buses. You can refill Octopus Cards in MTR stations.
Eating
When I was studying abroad, I pretty much only went to restaurants I found out about by word of mouth. When I went back to visit years later, I looked at the Restaurants section of my Hong Kong Lonely Planet for the first time, and I was really surprised how expensive all their suggestions were. Don't get the wrong idea by books like this! Unless you go somewhere fancier or touristier, you shouldn't have to pay more than HK$35 for a tasty full meal (entree + drink). (If you're desperate for an inexpensive local meal regardless of quality, you can always find restaurants or food courts in one of Hong Kong's many malls.)
Local cafes are great places for food, but it'll be difficult to get by there without knowing Cantonese (although if you can read the Chinese on the menus, maybe you can point to items there when ordering). At some point you should at least order some milk tea (奶茶) — Hong Kong has a unique style of milk tea which is definitely different than the Taiwanese style I was used to having in the US — and probably try the Hong Kong style French toast (西多士), which isn't like regular French toast. These local cafes will also have tasty ice drinks called fleecies and also a range of different delicious toasts (多士 — often topped with condensed milk). But if you're going to get a snack at a place like this, you might as well go all out and get the French toast. These cafes are all over (although they're hard to find in touristy places) — for example, there's one in the small mall by the Hui Lau Shan by the Tsim Sha Tsui Star Ferry pier, and you can find a lot on Temple Street in Yau Ma Tei (around the night market).
Also there are good snacks from street food stands, especially mango smoothies, which you can get for HK$5. (One good place to find these is in East Tsim Sha Tsui along Chatham Road, near the science and history museums, but you'll see them all over.) You can get coconut milk straight from the coconut too (for example, at the Fa Yuen Gai street market in Mong Kok.) And make sure to get an egg puff (kind of like an inverse waffle — a bunch of spheres connected together in a plane) from one of the food stands on Avenue of Stars.
Hong Kong also has really good Thai food for great prices. Unfortunately I can't recommend any specific restaurants, but the center of Thai food in Hong Kong is Kowloon City. There are also more expensive Thai restaurants catering to expats, but don't go to these.
The dessert cafes, bakeries, and pineapple beer are so awesome I have separate sections for them.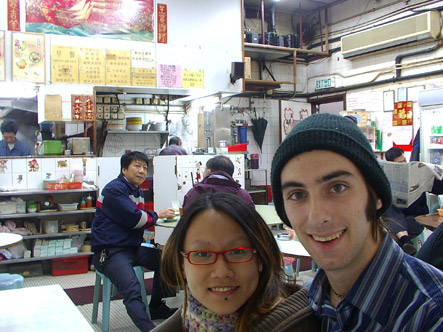 A typical local cafe. This one is near the Mei Foo MTR station.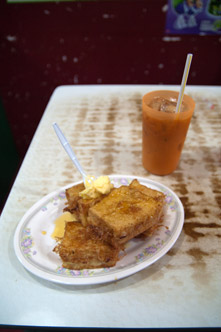 French toast (西多士) and milk tea (奶茶)
at the cafe in Tsim Sha Tsui mentioned
above. Delicious!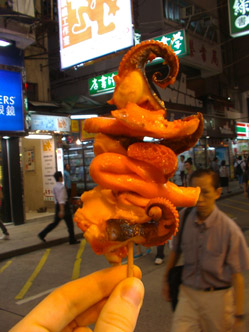 Octopus on a stick from a street food
stand on Portland Street, Mong Kok.
Beggar Monks
If you see a random monk on the streets of Central, avoid eye contact and completely ignore him, although he'll probably persistently follow you. If you make the mistake of acknowledging him, he'll guilt you into giving him money. Luckily you'll only run into one of these monks maybe once.
Avenue of Stars
No pictures of the view from the Avenue of Stars — no matter how big — can prepare you for its awesomeness in real life. There is nowhere else in the world with a view anything like this. One of my most vivid memories of my semester in Hong Kong (along with the bus ride from the airport) is when I first came to the Avenue of Stars.
In a nutshell, the Avenue is a promenade along the tip of Kowloon Peninsula offering breathtaking views across the Harbour to Hong Kong Island — the world's greatest skyline. It's awesome at day, and it's awesome at night (when you can catch the Symphony of Lights). In a successful effort to make this area even more touristy, the Avenue of Stars also serves as Hong Kong's equivalent of Hollywood's Walk of Fame.
When I came back to Hong Kong for the first time, this was the first and last place I went.
If you go too late at night (after midnight or so), some of the skyscrapers on Hong Kong Island will have turned off their lights, and the view will be less exciting.
Also, you should try an egg puff from one of the snack stands along the Avenue.
Victoria Peak
Victoria Peak is the highest peak on Hong Kong Island. In Colonial times, rich Englishmen lived up here, where it's actually 10 degrees (Fahrenheit) cooler in the summer. The Peak offers amazing views of the north side of Hong Kong Island (Hong Kong's downtown), Victoria Harbour, and Kowloon, both during the day and at night, as well as somewhat scenic but less amazing views south; it can be an interesting place to watch the Symphony of Lights (although I prefer watching it from the Avenue of Stars or a Star Ferry).
You can get to the peak by bus or by an unusual funicular tram, which exudes a great deal of novelty. Definitely ride the tram up at least once, but at peak times (Friday and Saturday nights) the line to take the tram back down can be prodigious. The tram leaves from Central, a couple blocks uphill from the HSBC building, behind the cathedral. The bus takes longer but is cheaper and has some great views.
The tram terminates at a distinctively-shaped upscale mall (the Peak Tower) with a cool rooftop terrace that you have to pay to enter (another place you can use your Octopus Card). While it's worth paying for, there's also a free viewing area off to the side of the mall.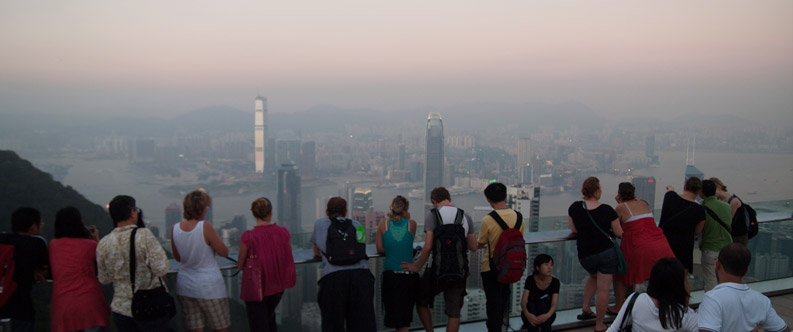 The Peak Tower rooftop terrace
Star Ferry
Besides being a cheap and easy way to cross Victoria Harbour, the nine-minute ride was chosen by National Geographic Traveler as one of their "fifty places of a lifetime" (whatever that means). Apparently it's also been voted the most exciting ferry ride in the world. Like the peak and the Avenue of Stars, it's a great thing to do both during the day and at night, and it's a great place to experience the Symphony of Lights from. As a bonus, it's probably the cheapest way to cross the Harbour (although the MTR can be faster).
The ferries are double-decker: the top deck probably has better views and is air conditioned and has windows that open for fresh air, but the bottom deck is entirely open.
Take the bus from the airport
Unless you're in a time crunch, you should skip the MTR (train) at the airport and take the bus into town. The views along the trip as you cut across the New Territories and into Kowloon, including glimpses of the awesome skyline of Hong Kong Island as you get closer (I still remember the moment of this bus ride when I first glimpsed the iconic Bank of China Tower), will be a great visual introduction to Hong Kong. (It's also cheaper than the MTR!) Inside the airport you'll be able to figure out which bus to take.
A Symphony of Lights
A Symphony of Lights is a cool light and laser show on Hong Kong's skyline every night at 8. Holder of the Guinness World Record for the world's largest permanent light and sound show, it lasts about 15 minutes and is best observed from Avenue of Stars or a Star Ferry, as well as Victoria Peak. The show is narrated via speakers at the Avenue of Stars, with the language rotating between Cantonese, English, and Mandarin.
Peak Circle Walk
There's a great walking/running trail that starts and ends near the Peak Tower and circles Victoria Peak, providing amazing panoramic views. There's not much elevation change, so it's a pretty easy walk. Rather than describe the route in detail, I'll refer you to the Hong Kong Tourism Board's page about the trail.
Dessert Cafes
Hong Kong has a particularly delicious type of dessert cafe. If I were you, I would eat at these places every chance you get. Hui Lau Shan specializes in mango desserts (with items such as "Mango Jelly in Mango Juice with Extra Mango") and has locations all over Kowloon; you can find one near the Tsim Sha Tsui Star Ferry pier and one on Mong Kok's Portland Street, for example. There's also Honeymoon Dessert, which has two locations in the cool Langham Place mall in Mong Kok (the location near the top floor, not the one by the food court, has better atmosphere), and Lucky Dessert in Causeway Bay across the street from the World Trade Center.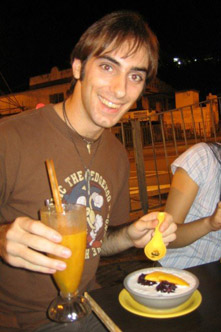 Honeymoon Dessert in Sai Kung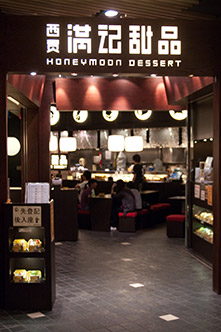 Honeymoon Dessert near the
top of Langham Place mall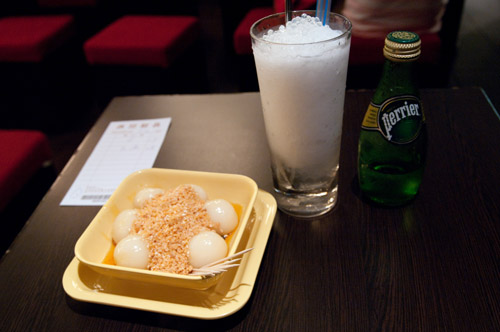 Some sort of delicious starch balls with crushed nuts from Honeymoon Dessert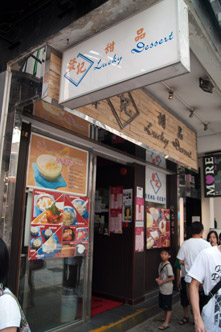 Lucky Dessert in Causeway Bay
Bakeries
Hong Kong has a certain type of cheap, delicious bakeries. You'll also see normal bakeries, with cakes and things (the ubiquitous Maxim, for example), but those aren't what I'm talking about. Unfortunately I don't know many good locations of these bakeries in Kowloon or Hong Kong Island (you can find easily some in malls at MTR stations like Hang Hau and Po Lam), but there is one called Das Gute in one of the Causeway Bay MTR station exits, near Times Square.
These bakeries have all kinds of great freshly baked snacks — cheese sticks, cocktail buns, pineapple buns ("It's firm on the surface, quietly on the inside and topped by crunchy, mellifluous pastry"), pizza bread, pork floss buns, buns with random delicious fillings such as cream cheese and cranberries... all kinds of delicious things. You can identify these places by the tongs, trays, and rows of food. You can get a whole meal worth of bakery snacks for probably HK$12! These bakeries are one of the things I miss most about Hong Kong.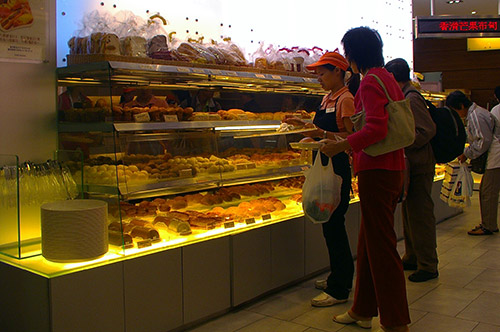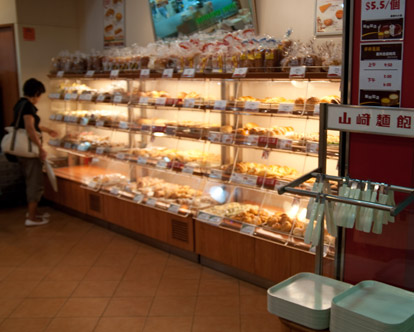 Horse Races
If you're in Hong Kong on a Wednesday night, make sure to go to Happy Valley (south of Wan Chai) to see Hong Kong's famous horse races. You can take one of Hong Kong Island's iconic double-decker trams to the racetrack. Admission is only HK$10! The atmosphere is incredible, being in the heart of Hong Kong's downtown. There are also horse races in Sha Tin on Sunday afternoons; this location is much less atmospheric (it's in the suburbs), but the race track there is modern and huge!
Window of the World
Okay, this is in Shenzhen, not Hong Kong, but it's still a great thing to visit. It's a huge theme park with scale models of the world's landmarks (including a 1:3 scale Eiffel Tower — which is still really tall — that you can take an elevator to the top of). When I went, I expected to only spend a couple hours there, but it was so interesting we were there for the whole day!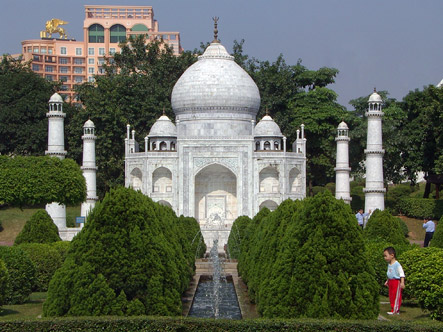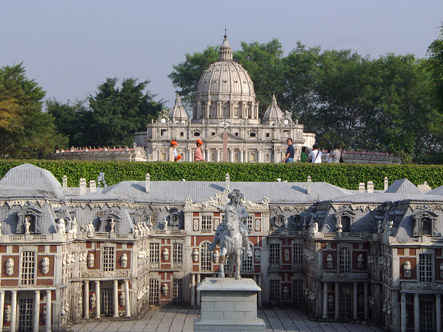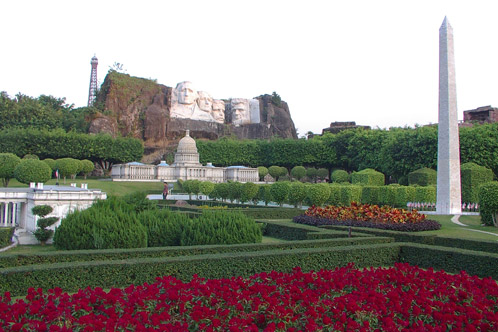 Temple Street Night Market
This is my favorite street market in Hong Kong (there are a bunch); it's a great place to buy souvenirs. It runs along Temple Street between Yau Ma Tei and Jordan (you can access it from either MTR station). I think it's open every night until around 10. You must bargain for everything here; if you're new to bargaining or rusty at it, see how low you can go on some cheap items first to get the hang of it. It might not be obvious at first how low you can actually bargain down the prices to.
Portland Street
There's not really anything touristy to do on Mong Kok's Portland Street (except eat at Hui Lau Shan or get some food from a street vendor), but it's a great place to walk around at night, when it's incredibly vibrant.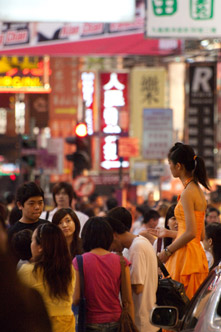 OZONE
OZONE is a bar basically on the roof (the 118th floor) of the International Commerce Center, one of the tallest buildings in the world, and is the highest bar in the world. Needless to say, the views are spectacular.
Lan Kwai Fong
Lan Kwai Fong is the nightlife location for expatriates, tourists, and exchange students. It's in Central, uphill a little. It's fun because it's so dense with restaurants, clubs, and bars, many of which don't charge cover, so you can easily hop from one to the next. There's a good shisha (hookah) place too, Medina Lounge, on Arbuthnot Road (the street that runs just south of Lan Kwai Fong, kind of overlooking it). The drinks in Lan Kwai Fong are expensive, though (well, about San Francisco prices), but since drinking on the street is legal in Hong Kong, you can always hit up the conveniently-located "Club 7-Eleven" (a.k.a. "7-Eleven") and grab some cheap beers. A more fun alternative is to pre-party in somewhere cheaper like Wan Chai. I recommend Kangaroo's, where you can order a value-priced cocktail bowl for you and all your friends.
A nightlife area more popular with locals (but still popular with expats too) is Knutsford Terrace in Tsim Sha Tsui. It's a little less lively than Lan Kwai Fong. There's a great Russian restaurant there, though, called Balalaika, which includes an ice bar for vodka shots (I think there's a location in Lan Kwai Fong too, but I've only been to the Knutsford Terrace one).
The MTR (subway) stops running around midnight, but there are night buses, and taxis aren't expensive, especially if you're splitting them.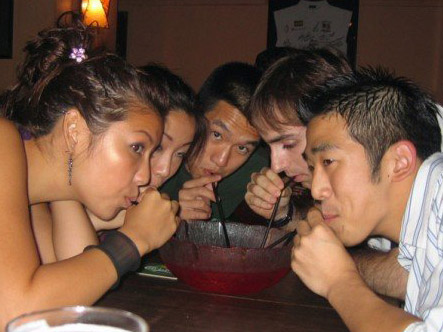 Kangaroo's in Wan Chai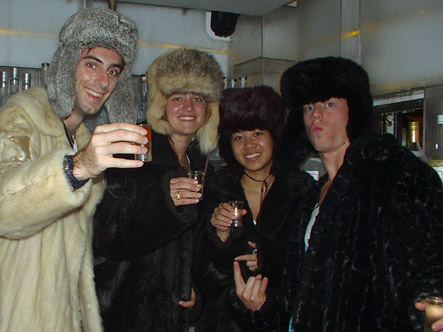 The ice bar in Balalaika at Knutsford Terrace
Tian Tan Buddha
Located in the remote mountains of Lantau Island, the Tian Tan Buddha (the world's largest seated outdoor bronze Buddha statue) at the Po Lin Monastery seems to be tautologically a mandatory stop for tourists because it's one of Hong Kong's major tourist attractions. It's definitely impressive, but the lack of authenticity lessens the experience somewhat (it was built in the 90s). It is cool to get out to Lantau and see part of Hong Kong that's not city, and there's a great cable car (the Ngong Ping 360) that runs between the statue and the Tung Chung MTR station. There's a hiking path that runs along the cable car route too; it's fun to take the cable car up, see the Buddha (and maybe eat that the monastery's vegetarian restaurant), and take the hiking trail back down. It's a really interesting trail because, after snaking along the mountains, it drops down into a foresty area with a traditional small rural Hong Kong village. To get back to the MTR station, you make your way out of the rural area and through a very modern Hong Kong housing estate (Yat Tung Estate), complete with absolutely enormous high-rises and old men playing Chinese chess in the courtyard. Hong Kong has lots of great hiking trails, and if you're going to see the Buddha statue anyway, this one won't be out of your way.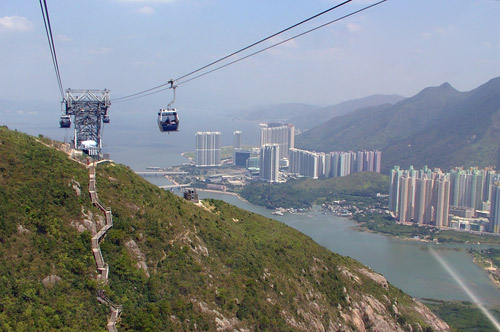 Ngong Ping 360 cable car; the hiking trail is visible directly under the cable car route.
IFC observation floor/Hong Kong Monetary Authority museum
The International Finance Centre (in Central) is one of the tallest buildings in the world, and the free Hong Kong Monetary Authority museum on its 55th floor with its large windows makes a good observation area. The museum is moderately interesting, but the views are great. If you're really interested in the history of Hong Kong's money, you can get a free guided tour of the museum, which is much more interesting than browsing the museum by yourself.
Bank of China Tower observation floor
I. M. Pei's iconic Bank of China Tower (in Central), once the tallest building outside the United States, has a free observation area on its 43rd floor. If you're passing by during working hours (when it's open), definitely check it out, since it'll only take a few minutes.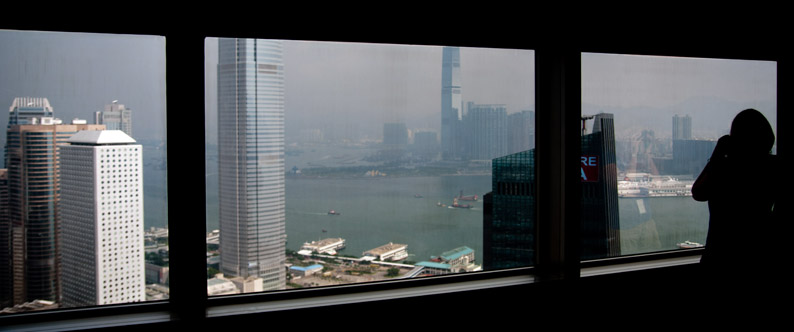 Hong Kong Museum of History
I normally avoid museums while traveling, but if you go to one museum in Hong Kong, make it this one (in East Tsim Sha Tsui). The exhibits are interesting and incredibly high quality. There's free admission one day a week or something too (maybe every Thursday?).
Junk ride
Tourists used to be entitled to a free ride on the Hong Kong Tourist Board's restored traditional fishing junk, but the price is now HK$100. I think it's probably worth it. Bring your passports to one of their offices (which are in a couple convenient places) and sign up. The ride is about an hour and doesn't offer much in the way of views that you don't get on a Star Ferry ride, but it's still fun. Details are available online.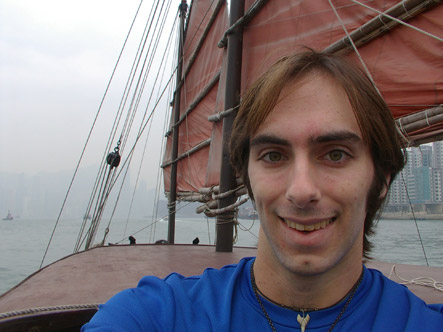 Visit a temple
There are temples in various places around Hong Kong, and it can be pretty interesting to visit and take part in some of their traditions (e.g., fortune telling sticks). Two of the most accessible temples are Man Mo Temple on Hollywood Road in Sheung Wan (near Central) and the Tin Hau temple in Stanley.
Take a tram
The historic trams — the world's only exclusively double-decker tram system — run along the north end of Hong Kong Island (through useful destinations such as Central, Wan Chai, Causeway Bay, and Happy Valley. They're slower than buses and the MTR (subway) but a lot more fun (and pretty cheap, too). Don't go out of your way to take them, but if you need to get somewhere along the tramlines (from Central to Lucky Dessert, maybe? Or maybe just to Happy Valley), definitely check it out.
Pineapple beer and Jolly Shandy
Hong Kong has some interesting alcoholic drinks not seen in the US. The most amazing is pineapple beer, which is awesomely cheap (sometimes less than HK$3 for a can!); Jolly Shandy is pretty good too, although it seems at least somewhat girly. I really enjoyed the pineapple beer when I was studying abroad in Hong Kong and I thought about bringing some back with me when I returned to Hong Kong a few year later until my view on the drink was changed forever when I noticed it's something like 0.5% alcohol. Oh well — still cheap and tasty.
You can find these drinks at most convenience stores (7-Eleven, Park 'n Shop, Wellcome, etc.).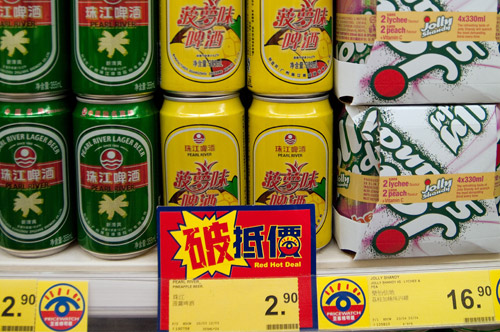 One brand of pineapple beer, and Jolly Shandy
Lo Wu Mall
You'll end up here when you take the KCR (train) to Shenzhen. It's a great place to shop for souvenirs at lower prices than what you can find in Hong Kong. You'll find bootleg DVDs, although the prices won't be as low as you'll be able to get elsewhere in Mainland China. The shops close in the evening, though (maybe around 8).
Kowloon Walled City Park
This is a really nice southern Chinese style park, built where the crazy Kowloon Walled City used to stand. Not a major tourist attraction, but a nice place, and how often do you get to see authentic southern Chinese style parks? While you're in the area you can also find some great Thai food.
Things Not To Do
There are some things in Hong Kong that you might hear about that sound cool, but actually aren't that exciting. Not that these things are worthless — just that if you're only in Hong Kong for a few days, there are better things to do.
Join a tour group
There are lots of tours available that will bus you around to different attractions. However, they'll invariably make you spend time at shops (which of course inflate the prices to give kickbacks to the tour company). You're better off investigating things yourself.
Ping Shan Heritage Trail
This historical walk in the New Territories takes you through remnants of traditional Hong Kong life (an old schoolhouse, temples, a walled village), but it's not very exciting. One highlight of the trail is a tree that used to contain a tree house. You're better off visiting the Hong Kong Museum of History, which is much less out of your way.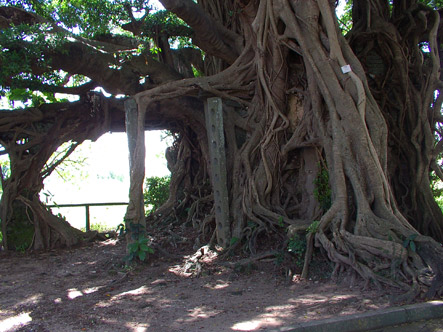 The tree that used to have a tree house in it. For real! It's not even a big tree or anything (that cement piece is maybe four feet tall).
Stanley and Repulse Bay
Stanley and Repulse Bay are both on the south coast of Hong Kong Island. The MTR (subway) doesn't run there, so you have to take a bus, which takes longer. I think Stanley is a popular tourist area, and while it's a cool place, there's not much to see here you can't see anywhere else. There is Stanley Market, a street market aimed at tourists, but everything that you can find there you can also find in the Temple Street night market. Repulse Bay includes a beach that's popular with locals.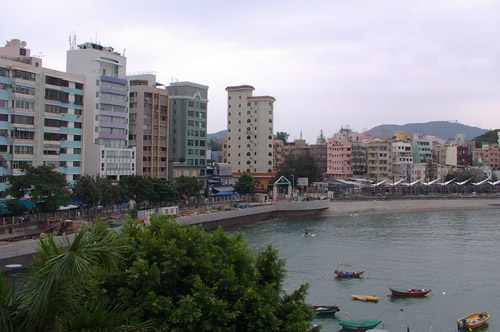 Stanley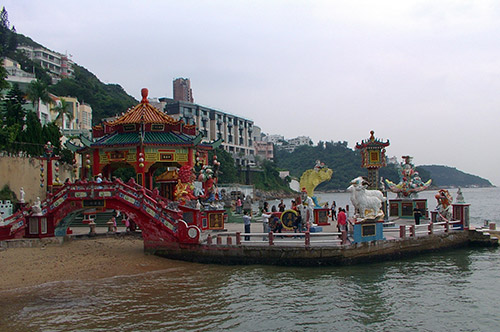 Repulse Bay
Hong Kong Park
Walking around Central, you might pass Hong Kong Park, which covers a hill across the street from the awesome Lippo Centre twin towers. It looks like it might have some cool views, but it's fairly unexciting.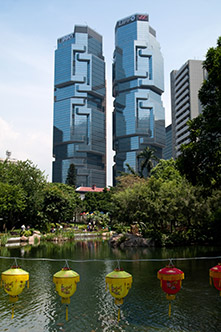 Lippo Centre from Hong Kong Park